When it comes to safety in a parking lot, keeping the speeds down is important.
Traffic calming devices are used to slow down vehicles.  The most commonly used device in parking lots is speed bumps.  Speed tables have also become popular and are generally used along residential roadways.  We've installed countless speed bumps over the years and have performed several municipal projects where we have installed speed tables on their residential roads.
Considering the Options:
Speed bumps are for low volume situations like parking lots, where cars move at a slower speed.  Speed bumps are usually cheaper than other types of calming devices.
Speed tables are less abrupt and provide a more gradual rise and fall which makes them better suited for higher speeds such as secondary roads and residential neighborhoods and can allow slightly higher speeds.  Speed tables are larger, and more costly.  Sometimes as much as 4-5 times the cost of a speed bump.
Some Dos and Don'ts
It is important that traffic calming devices are placed in obvious well marked or well lit places.  Stay away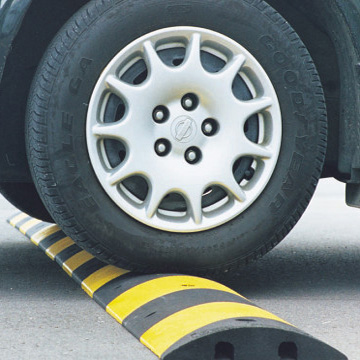 from bends or curves in the road or downhill grades.  Consider who will be using the road such as handicap, elderly, emergency vehicles or bicycles.
Contact Us for more info on traffic calming devices like speed bumps and speed tables!