Proper signage is critical to a safe parking lot
Signs are a key component to a successful parking lot. Most cities and municipalities have codes and ordinances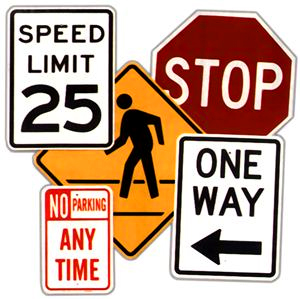 requiring signage in specific areas of the lot like Stop Signs for intersections and No Parking signs in Fire Lanes.  Typically a sign is installed in a landscaping area adjacent to the special zone or intersection but on occasion needs to be core drilled through a sidewalk or mounted on a wall or column.  Signs are standard design based on DOT codes and the specific size and variation of the sign is determined by the city code.
Generally speaking, within your property, a green "U" channel post is used to install the sign.  Roads leaving your property onto the city ROW (Right of Way) have different more stringent requirements and signs on public streets have even further requirements.  Gold Coast can install a variety of different posts depending on your location and needs.
Give us a call today for all your parking lot sign needs.